Should I Buy Refurbished iPhone from Online or Offline Stores?
7 min read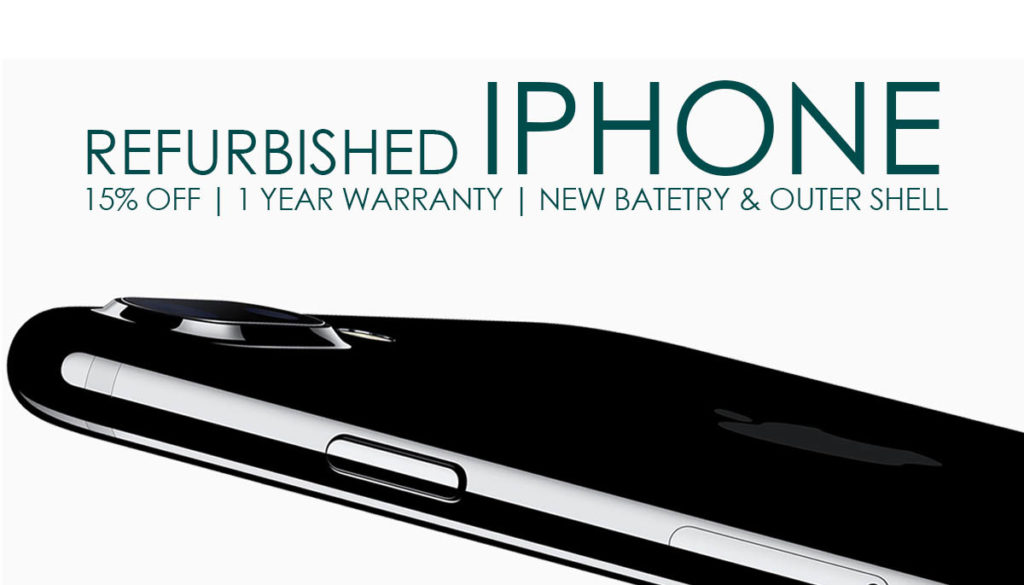 Few days backed someone asked me should I buy refurbished iPhone or the new one would be better value for money deal?
So guys, if you are from who would like to more on the refurbished iPhone deals then must check out the following points and tips. This will help you to decide should you continue and buy a refurbished iPhone or wait for the best deal on new iPhone!
What is Refurbished iPhone
Well if you're looking for a great deal on an Apple iPhone then you might consider buying a refurbished iPhone model.
A Refurbished iPhone is phone that have been returned to the company for various reasons, or you can consider it as an already used device but thoroughly cleaned and inspected.
As it is used but looks good, company sell it to users and hence these devices are name as refurbished devices.
Many companies in world do this and Apple is not alone.
So whenever Apple get the used product like iPhone, iPad, Macbook in their manufacturing plant they thoroughly examine each and every product and upon checking if anything is missed or damaged, the Apple engineers repair them, replace the damaged parts, add new battery, and install latest iOS and later company launch all products with F tag in the market at discounted rates.
This way Apple maximize the profit and users get an Apple product at discounted price – WIN WIN FEELING.
Why people return iPhone to company
Now guys you have been thinking of if people returning iPhone to company then might be something is wrong with the product and if it is true then why Apple is selling a defective iPhone to user? Isn't it a cheating?
So guys its answer is pretty simple and clear. The reason to return iPhone to company via retail store or courier is not limited to the defects. There can be others reasons like:
Might be you got better deal on new product.
Might be someone returned it for exchange or during the trade.
In case of physical damage, you will get new unit (

if insured

) and the damaged product will be transferred to manufacturing plant.
An issue repeating again and again, still you can claim new iPhone and return the defective one to Apple.

Due to unavailability of part

in your area, if wait time is too long and product is in the warranty then you will get new product and old one will be returned to plant!!
So here you can quickly examine that most of the time the product health is fit and fine and it is not limited only to defects.
But as the company got product in their manufacturing plant, so to re-launch it again in the market Apple has to follow a policy and testing pipeline. And on the basis of this now Apple will sale it is refurbished iPhone instead of brand new iPhone.
Refurbished iPhone Benefits 
The biggest benefit of refurbished iPhone is that it comes at the discounted price (quite cheaper than original unit). But there are other reasons why people buy a refurbished iPhone. The biggest benefits of a refurbished iPhone instead of second hand iPhone are:
All parts from camera unit to display will be genuine.
Either parts will be repaired or replaced.
The display will be crystal clean (no scratches, no damages).
Camera will work properly.
You will get authentic

new in-built battery

.
It will be packed with latest iOS.
The

outer shell of refurbished iPhone will be new.

The same one-year warranty as a

brand new iPhone

.
These are some of the great benefits when you purchase a refurbished iPhone from the Apple.com or via the local authorized Apple retail stores.
Instead if you will buy a second hand iPhone from your friend or local stores then there is no guarantee that you will get a clean, bug free and scratch less display iPhone. There are solid chances that you will get a dirty iPhone which will be delivered to you in the same old box with outdated iOS.
Should I Buy Refurbished iPhone
Guys if you seriously need iPhone but don't have enough money in your pocket then you should consider a refurbished iPhone as it is quite cheaper than the brand new unit and the positive thing is it comes with original parts in the new box with 1 year brand warranty.
Because these phones are effectively used, they are often much cheaper than buying a brand-new iPhone. And because they've been inspected by the company, you can be sure that they're still high quality. So if you're looking for a great deal on a iPhone, consider buying a refurbished model.
Where you can buy Refurbished iPhone
You will get a plenty of stores or online websites, but guys we don't recommend to buy from the unknown or third party online or offline stores. Instead the best thing is that, get it from the official Apple store online or visit the Apple Retail store.
Check the Refurbished iPhone stock on Apple.com, if available then buy it.
You can also confirm about the Refurbished model on the Apple retail store.
Don't buy Refurbished iPhone from the Amazon.com, BestBuy or any other online stores, because high chances are that you might receive a second hand iPhone instead of Refurbished .
Means on these platforms the phones are listed as refurbished but they are not actually refurbished. It has been seen in many cases that only a second hand phone is delivered to customer which looks bit dirty and you may find some scratches on display or at the back side.
In case of any part replacements, these unauthorized stores replace the damaged part with local made parts or they exchange it with other damaged iPhone. Like if iPhone A display is damaged and there is another phone iPhone B, then the engineers of these store will put the display of iPhone B in iPhone A.
That's seems a cheating!!
Even these unauthorized stores don't care about the battery and that's the reason many people face heating issues or low battery battery backup  + they warranty is a big problem. You might get 3 months to 6 months warranty with false claims.
How to Check If Your iPhone Was Refurbished
Now if you would like to check did you receive the refurbished iPhone then you can easily check it via the following settings:
Open the Settings
Go to General
Now tap About.
Here check carefully, if the mode number starts with F, then your iPhone was refurbished by Apple or a carrier like t-mobile, verizon etc.
Here

if model number is M

then it means device was new, while N denotes the current iPhone is a replaced unit.
So if your iPhone model number starts with the letter F then it means that you have received a certified refurbished iPhone from the store with all genuine parts and 1 year warranty.
Apple Refurbished iPhone Price
The price of refurbished iPhone on Apple.com is 15% lower than the original unit. So if you don't have enough money and would like to buy iPhone with 1 year warranty and brand new battery then here's the list which will give an idea how much you have to pay.
These are the current models that listed on Apple website:
iPhone 11
iPhone 12 mini
iPhone 12
iPhone 12 Pro
iPhone 12 Pro Max
iPhone 13 mini
iPhone 13
iPhone 13 Pro
iPhone 13 Pro Max
You can check current status of all refurbished iPhone of from here and on the basis of the budget, iPhone color, and storage requirement you can add the iPhone unit in the bag and get the free delivery within 3 days at your premise.
Refurbished iPhone 11 Price
The based model aka the 64GB storage variant will cost you $499.
While the 128GB and 258Gb will cost you around $549 and $649.
Refurbished iPhone 12 Price
There are a plenty of options and colors are available which you can consider while buying. As we can see, on Apple.com you can buy a unlocked refurbished iPhone 12 and the iPhone 12 pro / 12 Pro Max in Black, Graphite, Silver, Gold, Pacific Blue, Silver color options.
iPhone 12 64GB will cost you $529, while iPhone 12 128GB and 256 GB will cost around $569 and $659 only.
iPhone 12 pro 128GB will cost you $669, while iPhone 12 pro 256GB and 512 GB will cost around $769 and $929 only.
iPhone 12 pro max 128 GB will cost you $759, while iPhone 12 pro max 256GB and 512GB will cost around $839 and $1009 only.
Refurbished iPhone 13 Price
iPhone 13 64GB will cost you $579, while iPhone 13 128GB and 256 GB will cost around $629 and $729 only.
iPhone 13 pro 128GB will cost you $719, while iPhone 13 pro 256GB and 512 GB will cost around $829 and $1029 only.
iPhone 13 pro max 128 GB will cost you $799, while iPhone 13 pro max 256GB and 512GB will cost around $949 and $1199 only.
So guys that's all about the should I buy refurbished iPhone. If you still have any doubt, then you can let us know in the comments and don't forget to share it with others on social media groups among the Apple die hard fans.