Apple got 1st rank in Kantar BrandZ ranking, Google at #2 and Microsoft at #3
2 min read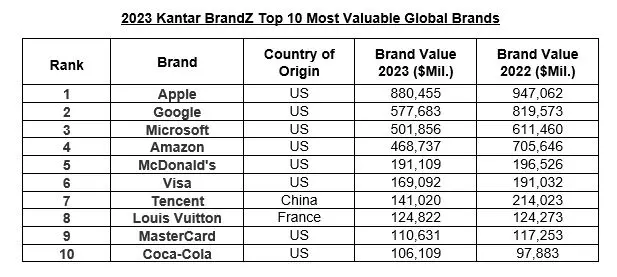 According to the Kantar BrandZ Most Valuable Global Brands Report 2023, Apple continues to hold the title of most valuable brand in the world.
According to the Kantar BrandZ ranking, the total brand value of the top 100 global brands is now estimated to be $6.9 trillion by 2023. The Kantar BrandZ Top 100 maintains its long-term growth trend, recording 47% gain compared to the pre-COVID (2019) level, despite a 20% decline in the total index vs 2022.
Apple has demonstrated resilience in the face of challenging market conditions, justifying high prices with favorable perceptions, and demonstrating that significant, distinctive, and salient brands are best positioned to withstand major economic disruption.
Apple's brand is now valued at $880 billion. Technology brands are once again the most well-represented in the Top 100 and capture the highest proportion of brand value.
Google and Microsoft round out the top three.
Google got the 2nd spot while Microsoft is at 3rd.
Regarding the brand value, the brand values of all these companies (Apple, Google and Microsoft) declined by some margin in 2023 as compared to 2022.
Few more points:
16 brands grew in brand value across the Top 100 – with Airtel (No.76; +24% and Pepsi (No.91; +17%) achieving the highest brand value growth vs 2022.
Nine brands returned to the Top 100 – including Colgate (No.95), Sony (No.99) and Pampers (No.100).
Two new Chinese brands joined the Top 100 ranking for the first time – Shein at No.70 and Nongfu Spring at No.81.
The Luxury, Fast Food and Food & Beverages categories proved to be the most resilient to market fluctuations.
So that's all about the Kantar BrandZ ranking, share it with others on social media groups and keep visiting itechypedia.com for more updates.